Are you trying to accept credit card payments on your CBD Shopify site? Are you having difficulty getting the high-risk payment gateway you need to process payments? You're not alone.
Luckily, CBDGateways can help. So you don't have to be among those who can't accept payments or run the risk of "held money" and shut down merchant accounts. We'll set you up with the best Shopify CBD payment gateway – plus, we will help you set it all up.
At CBDgateways, we believe that all CBD businesses should be able to use the same software, carts, and e-commerce platforms that more "standard" companies do. From this belief, we've found ways to integrate CBD merchant accounts with the most popular shopping carts. As a result, we can help as many business owners as possible.
Our CBD-friendly payment gateways integrate with just about every website builder – including Shopify.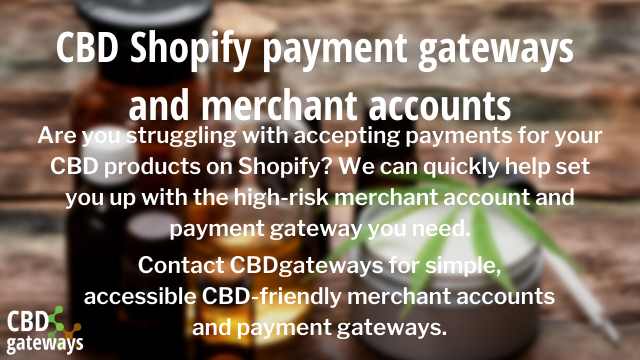 If you'd like to know more about why it's a challenge to accept debit and credit card payments online for CBD – we'll cover this in more detail below. However, if you're ready to make your online payment processing problems a thing of the past, contact CBDGateways today.
Use a CBD merchant account/payment gateway for Shopify
Online CBD continues to increase after taking the US by storm a few years ago. The demand continues – yet it's not the most accessible industry to operate in. As an entrepreneur in the CBD industry, we wouldn't be surprised if the challenges in accepting payments came as something of a shock. After all, the demand and normalization of CBD products have happened quickly pretty much across the States. However, things rarely move as quickly for financial institutions and credit card issuers.
While merchant service providers specialize in offering their services to the crowd and most businesses, CBD e-commerce businesses aren't the same as "most" businesses. As a more tightly regulated product, CBD product sellers and resellers are treated as a "high-risk" business in the payment processing world.
This means that there aren't as many payment processors who can help you accept payments for your products. Luckily, we can quickly help set you up with the high-risk merchant account and payment gateway you need to safely and reliably accept payments online.
Contact CBDGateways today for quick and easy help accepting payments online.
Shopify Payments, PayPal, and Stripe payment alternatives for CBD
There are plenty of positives to using big brand names. PayPal, Stripe, Shopify Payments, and similar payment solutions certainly fit this description. However, while they are excellent for most businesses, the big payment gateway merchant account combos are not a great fit for most regulated companies.
This results from how "payment aggregators" mitigate risk while offering almost instant payment processing ability. These big players are fantastic for most websites, but they are mostly incompatible with high-risk businesses – like CBD.
Shopify Payments has similar benefits and drawbacks to Stripe. Why? Because essentially Shopify Payments IS Stripe.
Shopify Payments is a great payment gateway for most businesses using Shopify. However, when you're selling CBD products, you shouldn't rely on them. Stripe prohibits CBD, and therefore it is prohibited by Shopify Payments too.
You can easily access Shopify Payments' Terms of Service here. On the other hand, if you're ready to set up your CBD Shopify store with the payment processing you need – please get in touch with us today.
You can sell CBD on Shopify
Shopify is one of the best all-in-one e-commerce platforms currently available. It's particularly impressive from a selling and merchandise management perspective. In addition, where other platforms might have more freedom in terms of design and visual presentation, Shopify's library of third-party apps and pure e-commerce ability is simply impressive.
However, as a CBD product seller, you should be aware that you need to use third-party payment processing. The good news is that we can quickly set you up with a payment gateway for your CBD Shopify store.
Start accepting payments on your CBD Shopify store
Are you ready to start accepting payments for your various CBD products through your Shopify storefront? Contact us today. We're able to help you accept credit and debit cards for a wide variety of CBD products, including:
If you're selling a legal CBD product type not listed above, don't worry, though. Nine out of ten times, we'll be able to help you. Contact us through our form below for quick, expert assistance.